TMS suppliers BlueRock TMS and VOICT have decided to join forces. This decision was recently finalized with BlueRock TMS' majority stake purchase within VOICT.  CEOs Wouter Lammerse of BlueRock TMS and Gert van Oel of VOICT explain why the two companies fit together so well:
"Our aim is to become the global market leader for TMS."
BlueRock TMS has been in the Gartner Magic Quadrant for transportation management systems (TMS) for two years now, ranking within the top fifteen leading TMS suppliers in the world. Despite this status, BlueRock TMS is still relatively unknown in its home market of the Netherlands. "So far we have operated quite under the radar within the Netherlands", says Wouter Lammerse, CEO of BlueRock TMS. "One of the reasons being that we took the step abroad at a very early stage – partly because of our first internationally operating customers. In addition to our head office in Den Bosch, we now have branches in Germany, Italy, Canada, Singapore and Dubai."
Why did BlueRock TMS go down the acquisition path?
Lammerse: "We have big ambitions. It's a nice first step that we're a smaller party in Gartner's Magic Quadrant, but we want to develop into a global market leader. In recent years, we have grown organically by an average of 35 to 40 percent per year, but to develop into a market leader, that's not enough: you have to grow even faster. We have come to the conclusion that we can best achieve our ambitions through a combination of organic growth and selective acquisitions. The first result of this new strategy is purchasing the majority stake in VOICT."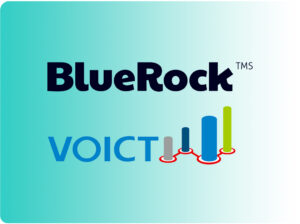 Why was VOICT looking for a partner?
Van Oel: "We see the growth opportunities in the rest of Europe. The Netherlands currently leads the way in healthcare, especially in the last mile distribution of medicines and medical devices. The developments that we see in the Netherlands (an aging population and an increase in at-home care) is also occurring in other countries. As a result, the demand for at-home delivery in healthcare will also increase. Currently with our transport management system DireXtion, we can deliver a high-level value in this field, enabling the distribution of temperature-controlled medicines in accordance with the GDP guidelines. We can see the opportunities, but at the moment we lack the industry knowledge, know-how, and organization to capitalize on them. That is why we went looking for a partner who has it all."
What does VOICT offer that BlueRock TMS does not currently have?
Lammerse: "The BlueRock TMS platform is used by a wide range of customers from different sectors. Internationally operating shippers such as HG and Arconic use our TMS to select the right transport mode and carrier for each shipment. Logistics service providers such as Bleckmann, Broekman, and Fiege use our software to monitor transport at order level. And parcel carriers such as DPD and Purolator (Canada) use our platform to plan the transport between all their depots. But until now we have not gained a solid foothold in last mile planning, and that is precisely the area in which VOICT excels. Not only for companies such as Brocacef and Alliance Healthcare, but also for companies from other sectors such as Coolblue, PostNL Extra@Home, and TSN Groen."
What's the advantage of having a partner in last mile management?
Lammerse: "Because VOICT has been active in that market for twenty years and has therefore built up a great deal of knowledge and experience. Not only technical knowledge, but also functional knowledge and business knowledge. The team at VOICT all proactively know what can go wrong in the last mile. They know how to respond and what users need in that regard. Even if we free up our smartest programmers, it would be impossible to create a state of the art last-mile solution with 20 years of development on our growth timeline. The fact that we now have that experience and expertise is a huge advantage."
And what is the added value of the BlueRock TMS platform for VOICT's customers?
Van Oel: "VOICT supplies an operational system with which we support four activities from the Deming circle: plan, do, check, and act. In other words, DireXtion not only offers support for the planning of trips, but also for their follow-up. The system warns if problems are likely to arise regarding the completeness, timeliness, or transport conditions of shipments. It contains extensive options for registering and reporting deviations during the process. But where DireXtion is weaker is analytical issues: what interventions at a tactical or strategic level are needed to improve the overall operation? We would also like to invest in the increasing demand for insight into CO2 emissions. This is best done with BlueRock TMS' knowledge of data science."
Lammerse: "Most transport management systems are especially good at execution: processing orders, compiling journeys, and assigning them to trucks and drivers. But BlueRock TMS also offers VOICT's customers support in the field of visibility and performance management. We combine this operational functionality with analytical functionality. Our platform therefore also offers answers to both strategic and tactical issues, like the design of distribution networks or calculating the optimal routing via those distribution networks. We have our own team of data science specialists just for this."
What about the cultural fit between the two companies?
Lammerse: "What we have in common with VOICT is that we try to fully empathize with our customers. What is their current working method? What are their pain points? What support do they need? This leads to a certain mentality that I also see at VOICT. We don't just settle for just what the customer asks, but we continue asking until we have discovered their crucial challenges and real needs. Because customers may ask for a drill, but what they actually need are holes."
…BlueRock TMS and VOICT continue asking until we have discovered our customer's crucial challenges and real needs. Because customers may ask for a drill, but what they actually need are holes."
Van Oel: "What makes the collaboration easier is that we both deliver a cloud-based solution and use the SaaS model: software-as-a-service. Our technologies are largely based on the same principles, and we don't have to make sacrifices by replacing or renewing products. Together we can grow into one large product portfolio, so that we can provide our customers with even better and smarter transportation software. We have now informed our customers about the cooperation with BlueRock TMS and the reactions have been very positive."
Lammerse: "VOICT has clients with whom we can jointly grow internationally. These customers also get access to a platform with more options. The reverse also applies: BlueRock TMS customers get access to the last mile functionality. In a short period of time we have already received many requests in this area. In addition, our existing customers benefit from our strengthened position in the Netherlands."
How will this takeover be completed in the near future?
Lammerse: "We are both fairly calm about that. We will take our time and will not rush to take all kinds of drastic measures. It is important that our teams get to know each other and get used to each other before making changes. This means that both offices in the Netherlands will continue to exist for now and that VOICT will continue to operate under Gert's leadership for the time being. We are mainly looking for synergy on a technical and commercial level."
Van Oel: "Because we are so complementary to each other, there is no need to throw away or reprogram pieces of software. At first, we will mainly look at how we can work together in terms of technology and commerce. We've chosen to let the integration of both companies take place at a natural pace." Lammerse: "We want to involve all employees in the integration, let them participate in the discussion, and make the right choices step by step. What we want to prevent is that employees run away. In these times of a tight labor market, we want to keep everyone on board."
Will the name VOICT will be kept?
Van Oel: "For the time being, we will continue to operate under the name VOICT, but we will present ourselves as a BlueRock TMS company. One thing is certain: in the long run we will continue as BlueRock TMS, because that name has international appeal and brand awareness."
About BlueRock TMS
www.bluerocktms.com  
BlueRock TMS was founded in 2013 by industry veterans with the aim to simplify logistics. The company is a leading global vendor of TMS software in more than 30 countries, with offices in the Netherlands, Germany, Italy, Canada, Singapore and Dubai. BlueRock TMS provides 16 modular SaaS products to calculate, analyze, and operationally support transportation networks and is listed in the Gartner Magic Quadrant. BlueRock TMS has the ambition to create a global and leading TMS software eco-system that provides companies with a SaaS-based solution for optimized logistic supply chains.
About VOICT
https://voict.nl VOICT
VOICT is a supplier of a SaaS TMS product and specializes in last-mile distribution for e-commerce and pharmaceuticals in the Benelux region. With their product DireXtion, they support companies such as Brocacef, PostNL Extra@Home and Coolblue in their daily operations in both the planning and implementation phase. In addition to planning and monitoring journeys, DireXtion also offers track & trace of the entire flow of goods, with key performance indicators including Timeliness, Completeness, and Conditions. Conditions of goods is especially important in order to comply with the GDP guidelines in the distribution of medicines. VOICT recently added the leading logistics service provider TSN Groen to its customer base.
For media enquiries, please contact:
Kaitlyn Atchley
k.atchley@bluerocktms.com